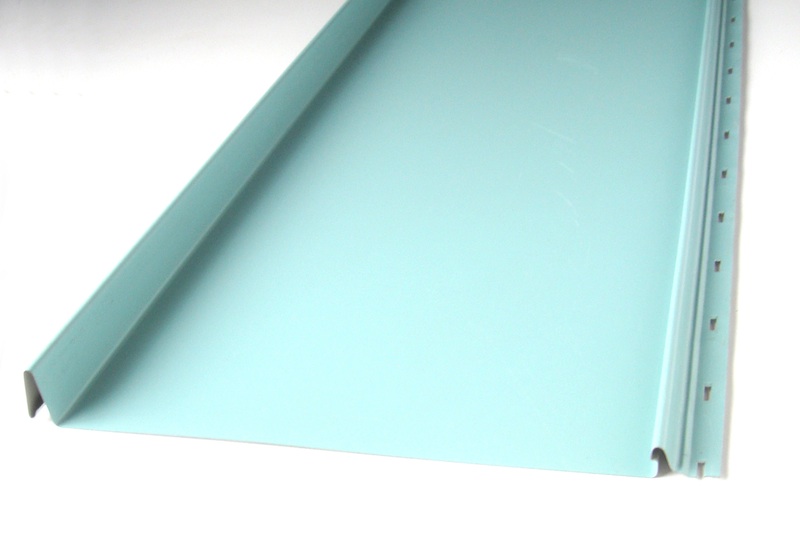 UNISEAM Steel Roof
UGI UNISEAM 350 is concealed fastened architectural steel roof claddings with vertical ribs and wide flat pans. It is ideal for residential and commercial applications.
Schematic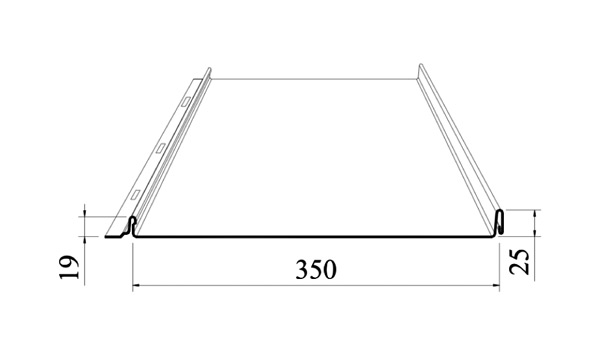 Features & usages:
– German non structural standing seam roof system
– Wide flat pan unto 450mm
– Supply & install by approved roofers
Material Choices:
– Clean COLORBOND ULTRA MATT* steel AZ200 G300
– Clean COLORBOND XPD PEARLESCENT* steel AZ150 G300
– Clean COLORBOND THERMATECH steel AZ150 G300
– Clean COLORBOND CAPERO steel AZ150 G300
UNISEAM 350 is made from Clean COLORBOND G300 repainted steel which complies with AS/NZS 2728:1997. Other materials (pre-painted aluminium or copper) also available upon request.
Masses (kg/m2) 350
0.42bmt/0.48tct 4.71
0.48bmt/0.54tct 5.33
0.60bmt/0.66tct 6.57
Lengths
Sheets are supplied in custom cut lengths up to 8m, longer lengths may require site forming.
Tolerances
Length: +/- 10mm
Width: +/- 5mm
How to specify UGI Steel Roofing System:
0.48mm TCT UGI UNISEAM Clean COLORBOND with G300 metal roofing with all necessary fixing accessories.
1 layer UGI double sided sisalation aluminium foil.
1 layer Thermalrock B40 – 50mm thickness @ 40 kg/m³.
1 layer of UGI GI roof mesh.
Roof Pitch
Recommended lowest roof pitch for UNISEAM 350 is 7 degrees.
UNISEAM 350 can be easily installed onto plywood subs
trade using self drilling screws with wafer head 10-12×25 or spiral-threaded steel nails 3.75mm did x 40. Recommended fasteners spacing 457mm(18"). Hidden fasteners are secured to the raised portion of each panel, and subsequently covered by the next adjoining panel during installation.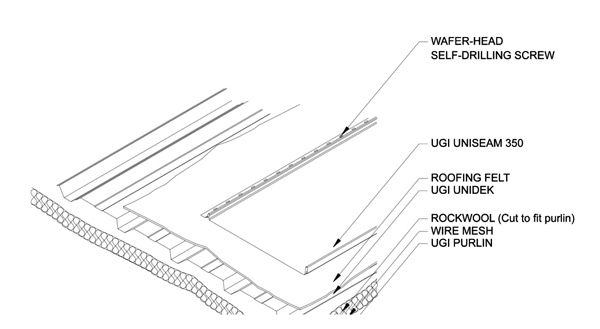 (UNISEAM, roofing felt, 9mm waterproof plywood, 0.48mm tct Zincalume UniDek, EcoSteel Truss or equivalent)
Note: UNISEAM 325 is also available upon request.